The project started in 2013 by the idea of the four founding members to spread their passion for the land, nature and sport bringing into play their skills and focusing on continuous training.
Our mission is to raise people's awareness to an active, conscious and sustainable lifestyle, and make sure that everyone can get to this result. This is why we place great emphasis on activities with children, creating awareness projects, and with people with disabilities, because no one can be excluded from this philosophy.
The project is driven by a sustainability perspective, with special attention to the enhancement of the traditional activities, of the local cultures, of eco-tourism and the fruition of socially sensitive categories.
STAFF
LUCA
Creator & Manager

---
A graduate in Marine Environmental Science at Genoa's University with a thesis in marine meteorology, Luca previously attended the America International School in Genoa, allowing him to become a bilingual speaker of both Italian and English. Scuba diver and trekking lover, he enjoys many open air and outdoor sports including sailing. Luca has been a kayak instructor since the age of 17 and played in the kayak polo national team in 2007, a sport which he has been practicing since 2004. He was a goalkeeper for the Pro Recco water polo team that won the national championship in 2001. Luca is Sea Kayak Leader 4* BCU (British Canoe Union), trained 5*. With this outdoor company project, he accomplishes the dream of combining his passion for water sports with his scientific knowledge of the sea.
SARA
Coordination & Logistic
---
Born and raised in the beautiful village of Camogli, Sara obtained a degree in Marine Environmental Sciences from the University of Genoa with a thesis on Camogli's Tonnarella, the oldest fishing method in the world. A lover of the sea and all its aspects, she has attended several sailing courses and is an SSI "Open Water Diver" as well as a WWF Scientific Animator. Sara has years of experience managing beach resorts and working with tourists in various commercial businesses.
ALESSANDRA
Communication & Events

---
Young, dynamic and professional, after graduating in Interior Design at the European Design Institute in Turin, Alessandra began her career in public relations and events planning (Studio di Comunicazione Gardella and International Boat Show in Genoa). Alessandra was raised attending the American International School in Genoa and is a perfect bilingual speaker of both Italian and English, with a basic knowledge of French and Spanish. A lover of water sports, she obtained her Swimming Instructor licence in 2008 and her Lifeguard licence in 2010 with the Italian Swimming Federation. In 2015 she became a FISDIR Swimming Instructor (Sport Italian Federation for Intellectual Disabilities). Alessandra has a passion for teaching swimming to both children and adults and for many years has focused her attention on the development of human relationships with her students.
ANGELO
Events Manager & Guide
---
Born and raised in Portofino's Marine Protected Area, he obtained a degree at the Istituto Nautico Cristoforo Colombo in Camogli being passionate about all activities related to rowing and paddling. Angelo has been a kayaker since 1985 and a FICK Instructor since 1991, with many years of experience in nautical trekking in the Ligurian Sea and beyond. He participated as a rower during the crossing between Chiavari and Coti (Ajaccio) as well as representing Liguria at the European Parliament of Strasburg as a member of the rowing group "U Dragun".
GIUSEPPE
Kayak Guide & Instructor 
---
Giuseppe is a BC Seakayak Leader, FICK sea kayak Coach at the moment attending the ISKGA coastal guide training. He has been sailing and paddling for 15 years the Ligurian sea. To master his knowledge about tides, he spent time in Jersey UK and Falmouth UK. With a crew of only two people, he crossed the Atlantic during a 6 month trip with a 30 feet sailing boat. Living 6 month in Ireland, 6 month on a sailboat between Mediterranean and Atlantic Sea and a year in Australia, he developed an authentic and straightforward approach to life.
ALICE
Front Office
---
Joyful and positive girl, Alice is graduated in hotel management. After being occupied for several years managing activities in the tourism sector, she decided to approach the outdoor lifestyle. She has an organized mind, which facilitates the work planning. Passionate about nutrition, she has been certified in sports nutrition and supplementation, she's still working and studying on that! Her greatest hobby is travel, activity which she hopes to be more and more part of her life in the future.
WALTER
Kayak Guide & Instructor
---
A geologist, he started kayaking in 1985 in Genoa at the Società Sportiva Murcarolo. Since 1996 he has been dedicated to white water kayaking, making it his priority allowing him the freedom to research the sport. Walter has been kayaking professionally since 1985; he was a member of the River Kayak National Team in 1989-1990 and 1992, and the Rafting National Team in 1994. In 1994 he obtained his kayaking Instructor license which is recognised by the National Kayak Federation. Following this, in 2001, he obtained the Rafting Guide license, recognised by FIRaft whilst in June 2005 he came 1st at the Italian White Water Kayak Championship. Today he practices kayak polo, kayak surf and high course kayak.
GIULIA
Guide & Instructor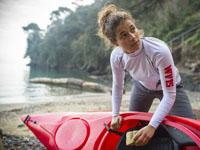 ---
A Physiotherapy student at the University of Genoa, Giulia is passionate for sport and particularly outdoor activities. Water is her natural habitat. She practiced water polo for twelve years playing in Ligurian teams including R.N. Camogli, Pro Recco and Rapallo Water Polo, with which she won the absolute and under 19s Italian title in 2013. Raised in Camogli, she became familiar with kayaking as a child, paddling with her father who is an instructor. From an early age she learned how to use kayaks to experience new adventures exploring the surrounding environment. After swimming in pools at a competitive level, she decided to focus her attention on the outdoors in particular to sea kayaking, climbing and open water swimming. Giulia is excited to share her passion for her land, helping others to enjoy all its beauty both above and below the sea!
VERONICA
Guide & Instructor

---
Born and raised a few steps from the Park of Portofino, Veronica has a huge passion for nature, outdoor life and sport. She has always been practicing sport: for five years she has swum at a competitive level, then moved on to rowing, a discipline that has seen her involved in the national team for 5 years until obtaining the second place in the U23 World Championship. Veronica graduated in Natural Sciences at the University of Genoa with a thesis on the micro-mammals of the Portofino Park, an institution for which she also carried out an internship. With Outdoor Portofino she finally combines work with her passions and passes on her knowledge with love.
TOMMASO
Guide & Instructor

---
A lover of the sea and water sports, he started sailing as a child and later chose this discipline as a competitive sport and lifestyle. In 2010 he obtained his boat license and the title of Sailing Instructor level I with the Italian Sailing Federation. He worked as an instructor in many Ligurian sailing clubs organising and managing sailing courses: from initiation to competitive sport. Tommaso grew up and lived in international environments since childhood allowing him to develop an excellent knowledge and fluency of the Spanish and English languages. He obtained a Master's Degree in International and Diplomatic Sciences at the University of Genoa. Tommy is an eclectic, energetic and enthusiastic guy, lover of the sea and of all those sports that take advantage of the wind, waves and current to give great emotions: from sailing to windsurfing he is able to turn learning into fun, always in safety!
FEDERICO
Guide & Instructor
---
Having achieved a degree in Marine Environmental Science with a thesis on the study of the Ligurian population of munida rugosa, Federico is a lover of the sea in all its forms. He spent 10 seasons working as a lifeguard and following this, as a WWF entertainer and guide at Genoa's Aquarium. Living between Genoa and Cogoleto, Federico was in a competitive rowing team for 15 years and has a rowing instructor license as well as a scuba diving license. He also lived in Australia for seven months, an experience that greatly increased his knowledge of the English language.
GREGORIO
Instructor & Communication Staff

---
Passionate of the sea in its totality, Gregorio discovered a passion for life in sailing, starting with the Optimist up to become a first level FIV Instructor. Student in Human Sciences for Communication, he works as a freelance with sector magazines, devoting himself in particular way to drift boats and Olympic Classes. He collaborates with Outdoor Portofino since 2017 as press office for events and other projects.