Description
This course is designed for those who already have good mastery with sea kayaking, but want to feel safe even in unfavorable situations, such as navigating in winter or rough seas.
The Sea Kayak L3 Explore Training Course is designed for those who already have good mastery with sea kayaking, but want to feel safe even in hostile situations, such as navigating in winter or rough seas.
The program will bring the candiate to achieve the knowledge, skills and self-confidence necessary to paddle at sea, being part of a group of equal capacity, during a one-day navigation in conditions up to breeze (Beaufort force 3) or rough seas (Sea State 3).
To access the SK3 course it is necessary to have obtained the Pagaia Azzurra Sea Kayak Level 2 certification – equivalent to the EPP 2 – or demonstrate to master the individual skills, be able to perform rescues and have navigation knowledge corresponding to the requirements of the SK2 Program.
The course covers the program of the National Pagaia Azzurra 3, EPP 3 (Euro Paddle Pass) Certification and that of the BC "Sea Kayak Award", old 3 stars.
The Pagaia Azzurra 3 Certificate is issued during an additional exam day (not included in the final price) with FICK trainers who have not participated in the training.
The BC "Sea Kayak Award" Certificate will be issued by our internal BC provider once the skills required by the Award have been achieved.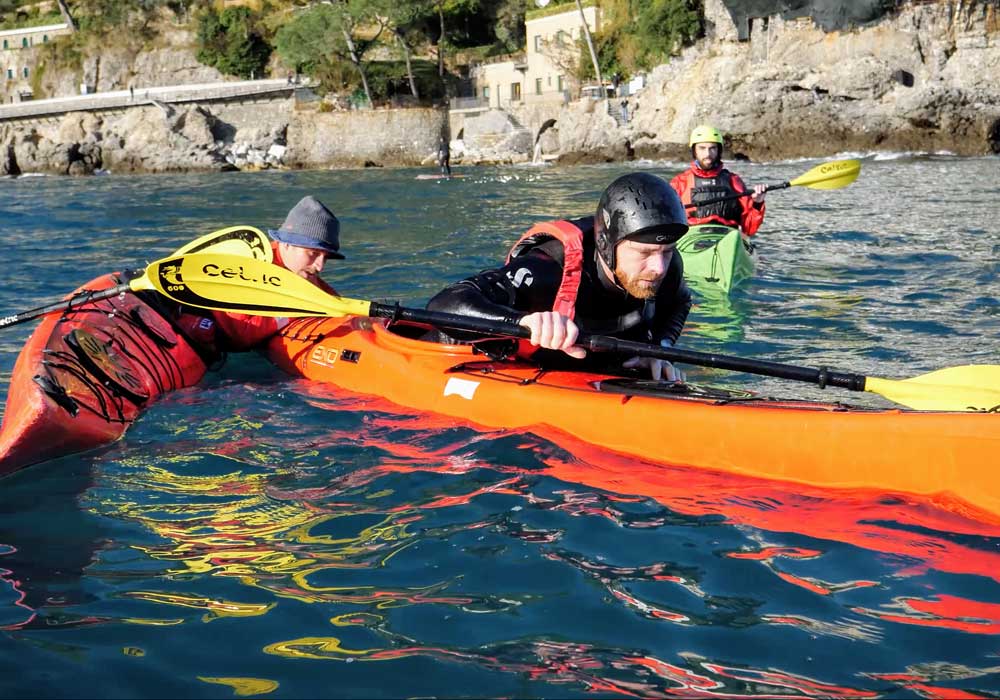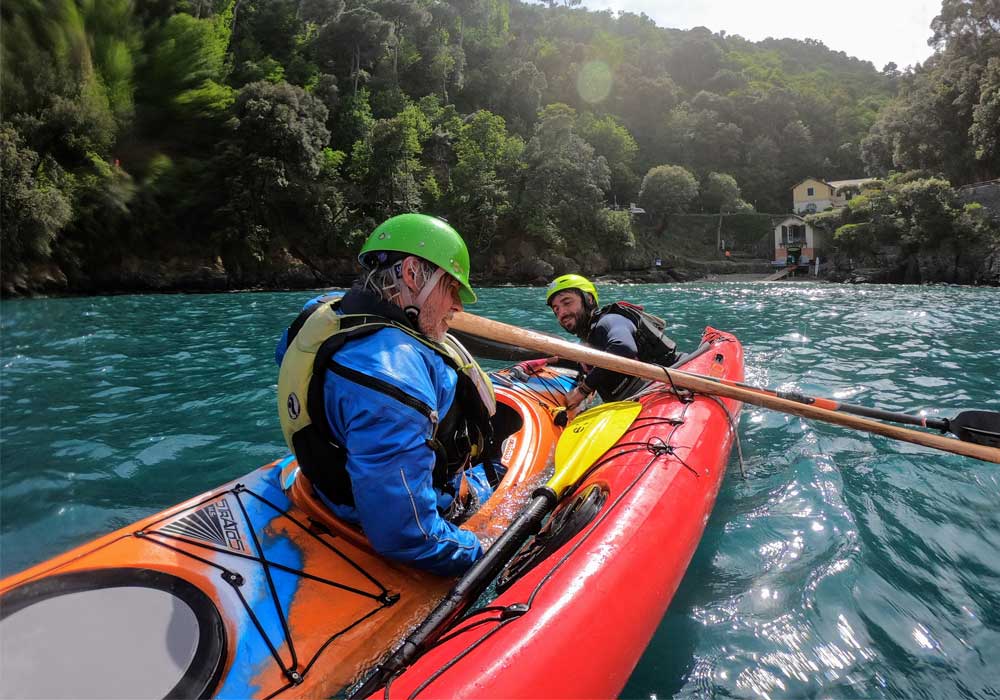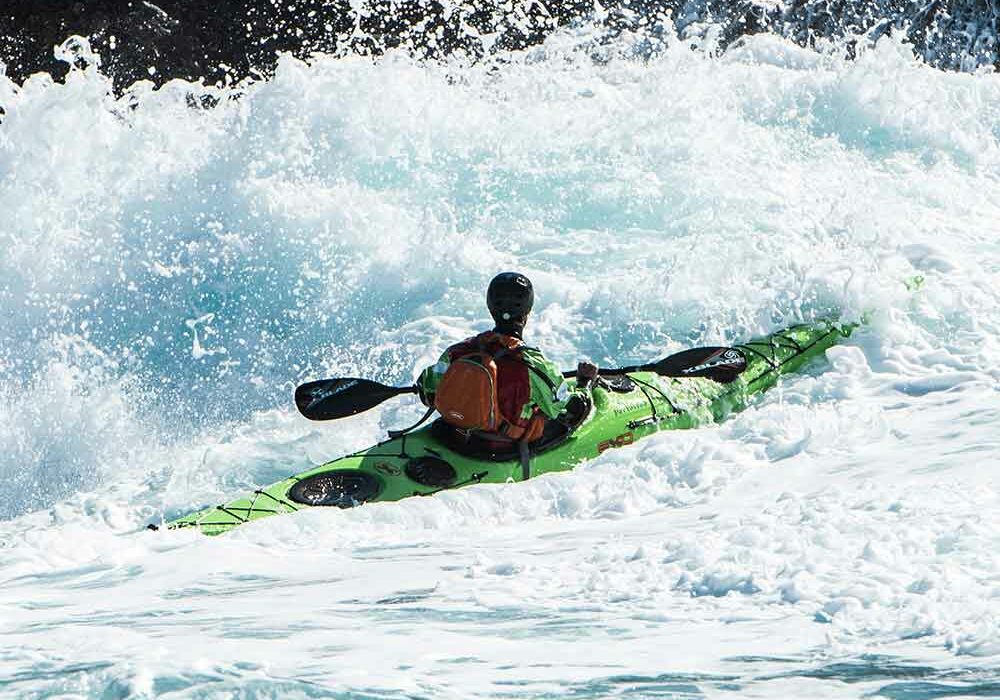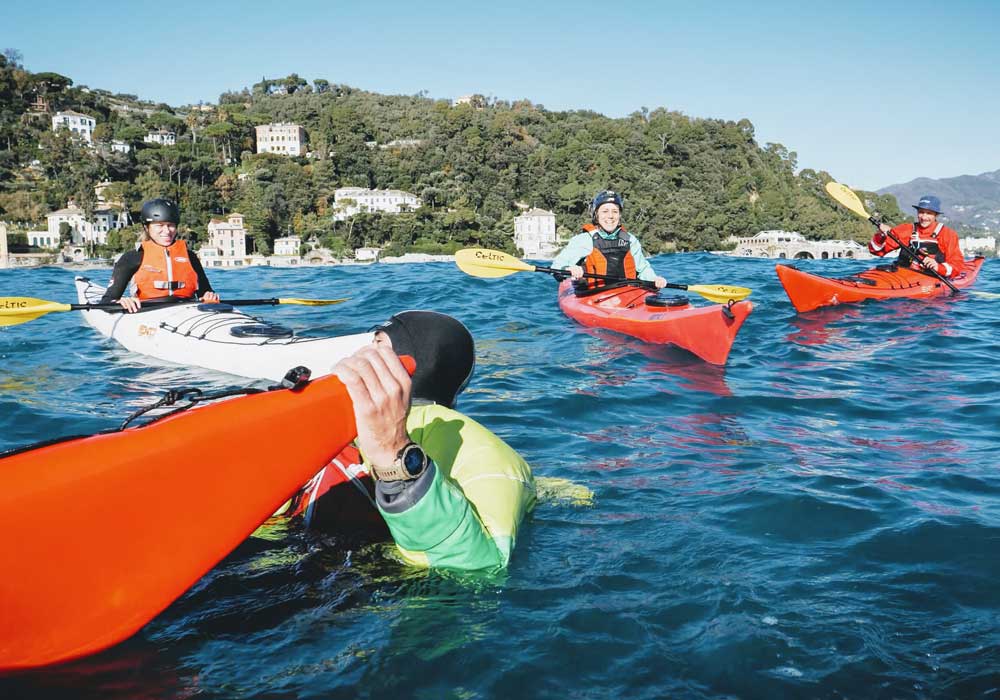 Sit-in sea kayak
Paddle
Spraydeck
Life vest
Wetsuit (provided during winter season)
Thermal shirt (provided during winter season)
Water jacket (provided during winter season)
Neoprene boots (provided during winter season)
Bathing suit
Beach towel
Water bottle
A dry change
Hat
Sun glasses
Portofino
The picturesque village of Portofino is a small jewel immersed in the natural context of the regional park to which it gives its name. Located on the eastern cape of the headland, Portofino is a place of great tourist interest. Its tall and colorful houses disposed in semicircle and overlooking the main square and the marina are surrounded by hills covered with olive trees. The entire perimeter of the park is characterized by wild cliffs, small inlets, caves and solitary beaches, mostly accessible only from the sea.
Individual capabilities
Lift and transport kayaks
Launching and landing in different scenarios
Forward stroke
Stop and paddling backwards
Bow rudder
Stern rudder
Forward and backward sweep stroke – 360° turn
T draw, scull draw, hanging draw
Low brace and low brace with momentum
High brace and high brace with momentum
Ability to maneuver with self-confidence in sea conditions at the beam reach, bow and stern
Launching and landing in surf max 1m
Safety navigation & rescue capabilities
Roll
Self rescue
Assisted rescue
Contact tow and long towing
Navigation e piloting, safety and marinery
Map reading, use of the compass and bearing
Maritime signaling and regulation to prevent collisions at sea
Navigation Distance and time calculation
Meteorology (sources and interpretation)
Wind effects, wave, tides and coast morphology
Group navigation, safety at sea, first aid items
Knots (bowline knot, figure eight knot, clove hitch)
Environmental knowledge
Coastal habitats
Main representative of the flora and fauna of the Mediterranean
Parks system, Marine Protected Areas and environmental protection
Difficulty: Intermediate
Length: 2 days
Language: Ita – Eng
Departure Time: 10 a.m.
Location: Portofino
Participants: max 6
The meeting point is at our sports center in Niasca, in the Bay of Paraggi. Once in Santa Margherita L. continue towards Portofino until the bay of Paraggi. Passed the inlet of the bay, after 200m on the left you will find a sandy beach where Outdoor Portofino is located. This area has very limited parking areas, especially during summertime. In Paraggi there is a paid parking lot, but we suggest to reach our office by alternative means (bus, boat, bicycle) or walking from Portofino (about 10 minutes) or S. Margherita L. (about 40 minutes). Here are some suggestions on how to reach us:
By train
The train station of Santa Margherita Ligure/Portofino is reachable from Milan (2 h 30 min), from Genoa (45 min), from Pisa (2 h). You may then continue walking, by bus, boat or taxi.
By bus
With the n. 82 line from the train stations of Santa Margherita Ligure or from Rapallo.
Walking
From Portofino (approx. 10 min.); from Santa Margherita Ligure (approx. 30-40 min.); from Camogli, through the trails of the park of Portofino.
By boat
There are two lines serving the promontory of Portofino. From Santa Margherita Ligure you can reach Portofino with the Consorzio Marittimo del Tigullio. From Genoa, Recco or Camogli, instead, the boat service Golfo Paradiso, embraces the route to San Fruttuoso, from where you can then take the ferries of the Consorzio Marittimo del Tigullio to Portofino.