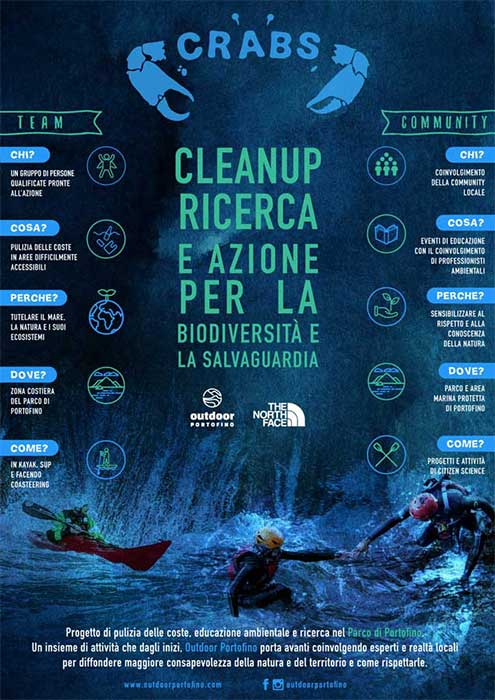 Since its foundation Outdoor Portofino has been carrying out all of these activities involving experts and local realities. Aim of the project is to spread a greater awareness of nature and the territory and the behaviors to respect them.
A project that has been going on since 2011, but that was put at risk in 2020 due to the coronavirus pandemic and its economic cuts. Thanks to The North Face we have the support to move forward and have the resources to concretely get back to working on research, coastal cleaning, monitoring and citizen science activities.
Within CRABS, we find two different strengths: the Team and the Community.
Watch the videos
Crabs Team
A small group of high skilled, motivated and very well trained people ready for action whenever there is a need to intervene in those areas difficult to access. This group is made up by some members of the OP Team and by other enthusiasts (and experts) of the outdoor world. Some of the activities the team will be called to conduct are cleanup, data collection for monitoring and research activities. The Crabs Team will be working closely with research bodies, such as Portofino's Marine Protected Area and the CNR (Science, Research Council).
WHO?
A group of qualified people ready for action
WHAT?
Coasts cleanup in areas that are difficult to access
WHY?
Protect the sea, nature and its ecosystems
WHERE?
Coastal area in the Park of Portofino
HOW?
Kayaking, Coasteering, Standup paddleboarding
Crabs Community
The project also sees the involvement of the local community through educational events with the participation of environmental professionals. A set of initiatives open to the public aiming to raise awareness of respect and knowledge of nature and its ecosystems. Citizen science activities such as monitoring and data collection, waste gathering and cleanup actions, participatory surveys, environmental and ecological observations.
WHO?
Involvement of the local community
WHAT?
Education events with the involvement of environmental professionals
WHY?
Raise awareness of respect and knowledge of nature
WHERE?
Park and Marine Protected Area of Portofino
HOW?
Projects and citizen science activities