Swimming, diving and climbing: discover the coast and its natural marvels
Coasteering is the evolution of canyoning at sea! In 2018 we brought Coasteering in Italy, precisely in Portofino. This activity is widespread in the UK's, but almost inexistent in the Mediterranean.
It's a super fun sport to do, but it is also the best way to discover the coast and it beauties from very close.
Why Coasteering
Swimming, diving, climbing: discover the coast and its natural marvels from very close
Exciting, adrenaline-packed and super fun sport!
Ideal activity for Team Building or for stag or hen events
Discover up close the rocky coast and you will feel like part of it
Doable all year round!
Develops collaboration and team work
Provided equipment
Wetsuit
Helmet
Life jacket
When
All year round! In our seas the water temperature never goes below 13 °C and air temperature is rarely below 10°C. With a 5mm wetsuit on, you may practice coasteering 365 days a year!
It is suggested to use a full length wetsuit (1 / 1.5 mm) even in summer: it guarantees protection and assures an ideal body temperature.
Spring
Summer
Autumn
Winter
Coasteering is exciting and adrenaline-packed. It allows you to get to know up close the teeming life on the coast and explore it so closely that you will seem like part of it.
It's like a trekking over marine rocks that allows you to explore the tide area in the best possible way. It consists in performing "crossings" along the coast, by walking, diving, swimming, climbing horizontally, playing in the riptide, exploring recesses and grottoes. The usage of ropes or harnesses it is not expected because the contact with water is always very close, without ever reaching any great height.
To practice Coasteering it is necessary to know ho to swim, be in good physical and psychological shape and be used to doing outdoors activities. Outdoor Portofino's guides have obtained the title as "Coasteering Guides": enjoy the experience with us in total safety!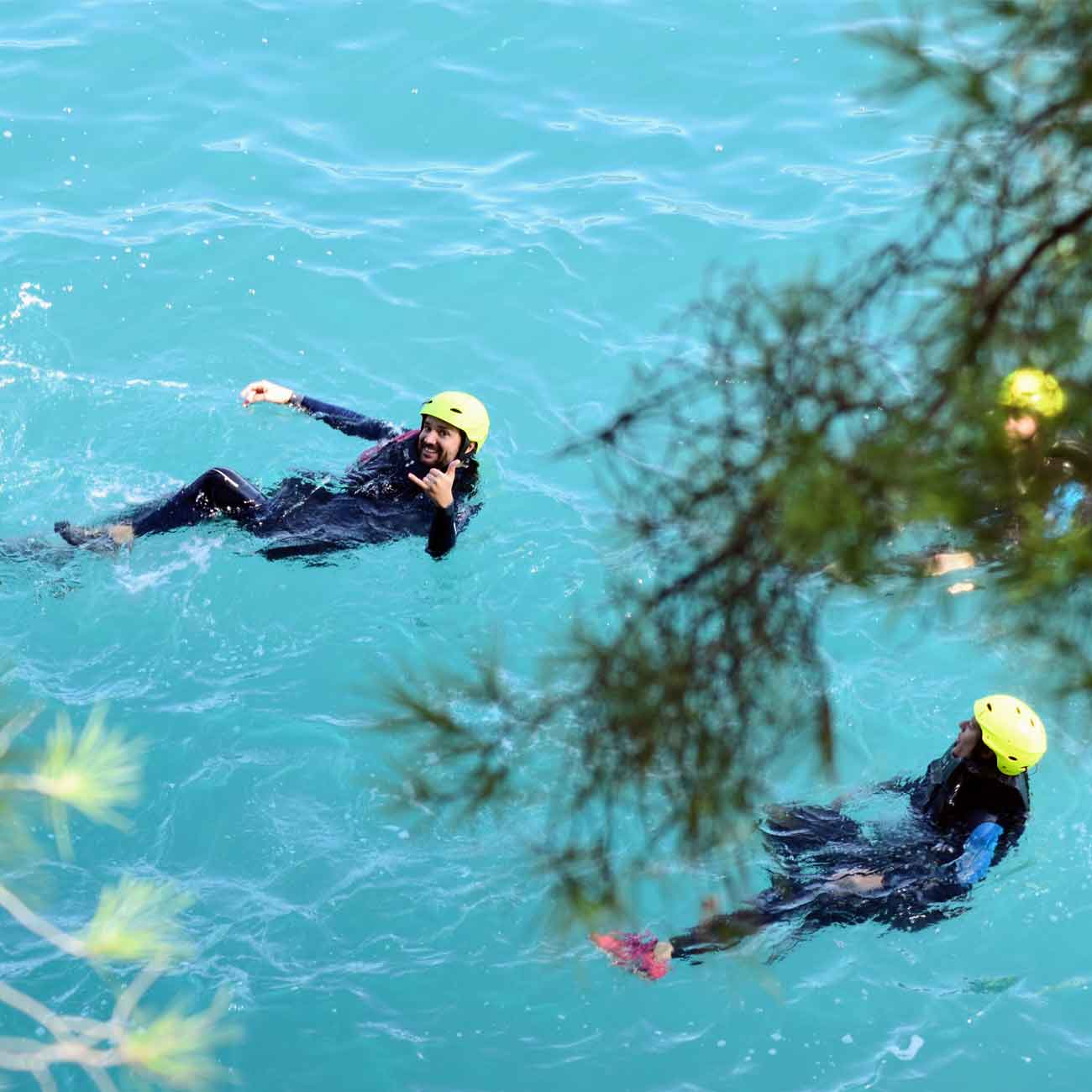 Swimming, diving and climbing: discover the coast and its natural marvels!