Description
Special night tour with mask, snorkel and fins in Paraggi bay, inside the marine protected area of Portofino!
When everyone goes to sleep .. the sea awakens!
This tour gives you the opportunity to snorkel in the bay of Niasca and Paraggi within the protected marine area of Portofino in the evening, when the sea becomes calm and the silence is relaxing.
Together with a specialized guide in marine biology and equipped with flashlights especially for scuba diving, we will explore the depths of the bay swimming among the plankton discovering marine species immersed in the silence of the sea. The experience is enriched with a briefing dedicated to marine creatures visible at night, with a focus on bioluminescence in particular.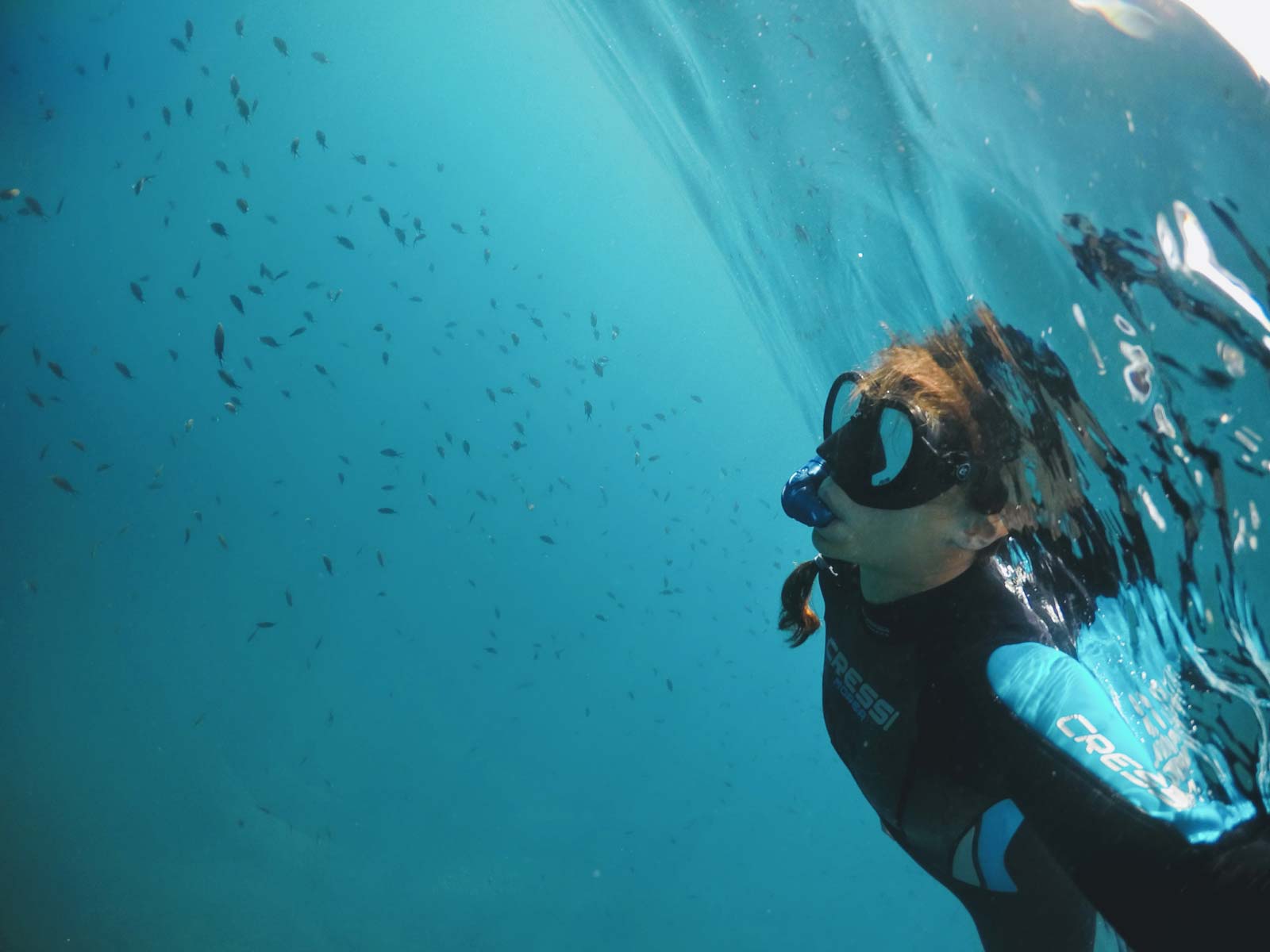 Snorkeling guide
Mask, snorkel, fins
Wetsuit
Flashlight
Paraggi
The bay of Niasca – from where the tours starts – is located inside the bay of Paraggi. The sandy beach is inlayed in the green Mediterranean scrub which, only in this area which is sheltered from sea storms, it arrives to touch the water. The entire bay of Paraggi, famous for the green intense color of its waters, is delimited by buoys inside which navigation is forbidden, guaranteeing safety to swimmers and yachtsman.
Difficulty: Beginner
Length: 1h15
Language: Ita – Eng
Departure Time: 20:00
Location: Portofino
Participants: max. 6
It is mandatory to know how to swim
The meeting point is at our sports center in Niasca, in the Bay of Paraggi. Once in Santa Margherita L. continue towards Portofino until the bay of Paraggi. Passed the inlet of the bay, after 200m on the left you will find a sandy beach where Outdoor Portofino is located. This area has very limited parking areas, especially during summertime. In Paraggi there is a paid parking lot, but we suggest to reach our office by alternative means (bus, boat, bicycle) or walking from Portofino (about 10 minutes) or S. Margherita L. (about 40 minutes). Here are some suggestions on how to reach us:
By train
The train station of Santa Margherita Ligure/Portofino is reachable from Milan (2 h 30 min), from Genoa (45 min), from Pisa (2 h). You may then continue walking, by bus, boat or taxi.
By bus
With the n. 82 line from the train stations of Santa Margherita Ligure or from Rapallo.
Walking
From Portofino (approx. 10 min.); from Santa Margherita Ligure (approx. 30-40 min.); from Camogli, through the trails of the park of Portofino.
By boat
There are two lines serving the promontory of Portofino. From Santa Margherita Ligure you can reach Portofino with the Consorzio Marittimo del Tigullio. From Genoa, Recco or Camogli, instead, the boat service Golfo Paradiso, embraces the route to San Fruttuoso, from where you can then take the ferries of the Consorzio Marittimo del Tigullio to Portofino.