Description
Kayak, paddle, mask, map and compass: in teams, follow the path in stages to reach the final goal in the shortest possible time!
A fun activity based on team spirit and trust growth, all set in the awesome background of the marine protected area of Portofino.
Teamwork, confidence, fun, orienteering, sea and nature: these are the main ingredients of the Marine Orienteering itinerary, a day dedicated playing sports within the Park of Portofino and its Marine Protected Area.
Kayak or Paddle board, paddle, mask, map and compass. An itinerary in stages to be followed to reach the final destination in the shortest possible time, following a series of way points.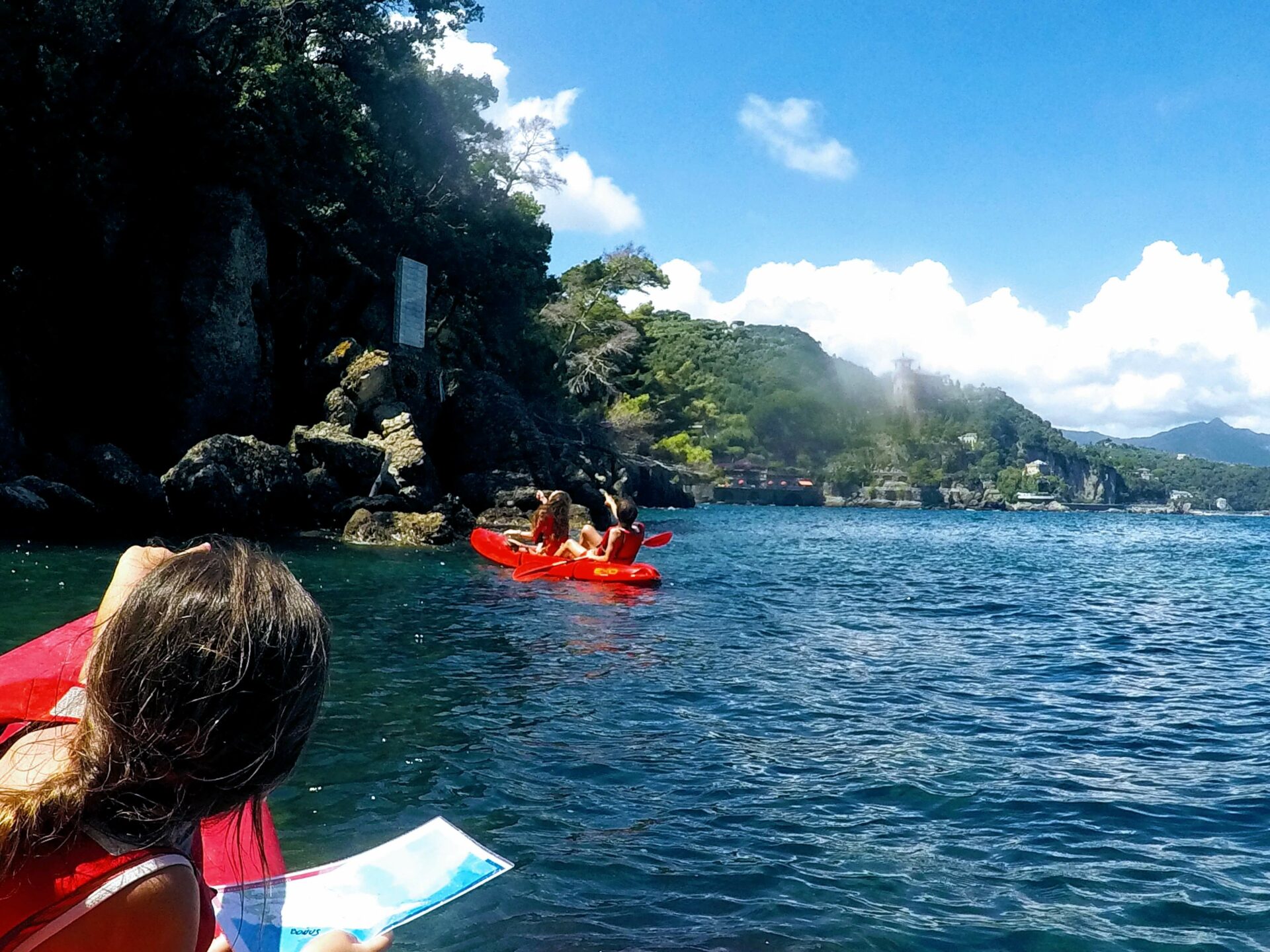 Kayak
Sup
Paddle
Mask
Map
Compass
Life vests (for under18)
Bathing suit
Beach towel
Water
Sun screen
Sea shoes
Hat
Sun glasses
Program
Meeting in Niasca, Paraggi Bay
General briefing, rules of the game, problem solving and objective achievement strategies, division of roles (approx. 15 min)
Delivery of the necessary equipment, usage briefing (approx. 15 min)
Activity at sea (approx. 2h)
Debriefing & end of the activity (approx. 10 min)
Price
6-15 people: €65/person
16-30 people: €53/person
Difficulty: Beginner
Length: 2h30
Language: Ita – Eng
Departure Time: to be defined with customer
Location: Portofino
Participants: groups of minimum 6, maximum 50 participants
It is mandatory to know how to swim
The meeting point is at our sports center in Niasca, in the Bay of Paraggi. Once in Santa Margherita L. continue towards Portofino until the bay of Paraggi. Passed the inlet of the bay, after 200m on the left you will find a sandy beach where Outdoor Portofino is located. This area has very limited parking areas, especially during summertime. In Paraggi there is a paid parking lot, but we suggest to reach our office by alternative means (bus, boat, bicycle) or walking from Portofino (about 10 minutes) or S. Margherita L. (about 40 minutes).
Here are some suggestions on how to reach us:
By train
The train station of Santa Margherita Ligure/Portofino is reachable from Milan (2 h 30 min), from Genoa (45 min), from Pisa (2 h). You may then continue walking, by bus, boat or taxi.
By bus
With the n. 82 line from the train stations of Santa Margherita Ligure or from Rapallo.
Walking
From Portofino (approx. 10 min.); from Santa Margherita Ligure (approx. 30-40 min.); from Camogli, through the trails of the park of Portofino.
By boat
There are two lines serving the promontory of Portofino. From Santa Margherita Ligure you can reach Portofino with the Consorzio Marittimo del Tigullio. From Genoa, Recco or Camogli, instead, the boat service Golfo Paradiso, embraces the route to San Fruttuoso, from where you can then take the ferries of the Consorzio Marittimo del Tigullio to Portofino.