Ligurian Sea: 12 activities for 12 months
Here is our programme for discovering a new active and sustainable way of living the Ligurian sea. 12 months, a suggestion every month. Put it on the list of things to do at least once in your life, you won't regret it!
Let me be clear: this programme is for everyone. Limits only exist in our heads – the sea can and must be lived all year round! What really benefits is our health and our mood (as well as the health of the sea itself, if lived in a sustainable and conscious way).
1. January: SUP in Portofino
What better way to start the year and live Liguria's sea?
Let's start off from Niasca (Paraggi, Portofino) for a paddle of about 1.5 hours in the C zone of the Portofino Protected Marine Area. The entrance to Portofino's tiny harbour and navigating around it is splendid at this time of year.
Frightened of the cold? A false myth, you just need a 3mm wetsuit, trust us!
Paddle boarding in Portofino
2. February: Trekking to San Fruttuoso + a swim
A combo that I personally adore! February is the ideal month, as the days start to lengthen and there are still few visitors to the park.
Departure from Camogli, coffee stop in San Rocco di Camogli, proceed on up to the ex WW2 lookouts (Batterie), Passo del Bacio, San Fruttuoso. It's a fairly difficult hike with quite a difference in altitude, suited to habitual walkers. The entire route overhangs the sea.
Once you arrive in San Fruttuoso, pop on a light wetsuit (or not, as you prefer, it's just a matter of getting used to it), get your goggles on and dive in for a quick swim as far as the Christ of the Abyss (about 300m from the beach).
Still thinking that the sea is only for the summertime?
Arriving in San Fruttuoso
3. March: Yoga by the sea in Liguria
For yoga lovers, practising it in the natural environment is just the absolute max. Seeing as we are in Liguria, we adore doing it in places where you have a great sea view and can possibly even smell its scent whilst we do our activity! In this article there is a selection of our favourite spots:
Open air yoga: 6 dream spots on the Eastern Riviera
Yoga with lots of sea air
4. April: Coasteering from Niasca to Cannon Bay
"Coasteering is the evolution, in the sea, of canyoning! Swimming, jumping, climbing and a lot of fun, truly the best way to discover the coast and its natural marvels".
Departure from Niasca beach (Paraggi), destination Cannon Bay (Portofino). A route that is entirely within the Protected Marine Area. Two grottoes, various jumps from up to 6m up and spectacular routes through the rocks. Wake up your inner child, doing it safely (more info here)!
Coasteering – a jump
5. May: a CleanUp day taking care of our sea here in Liguria
Up until now we have taken, but now the time has arrived to give something back. Living the sea also means taking care of it. One of the things that we can do to make a contribution is remove the rubbish, perhaps by taking part in a Clean Up campaign. We organise several (contact us or write in the comments if you would like to be kept up to date) but we're not the only ones who look after LIguria's sea – extremely interesting for example are the initiatives by Surfrider and The Black Bag.
Remember that the real contribution we can make is in our everyday lives: in the choices we make and by inspiring others to respect this extremely precious resource.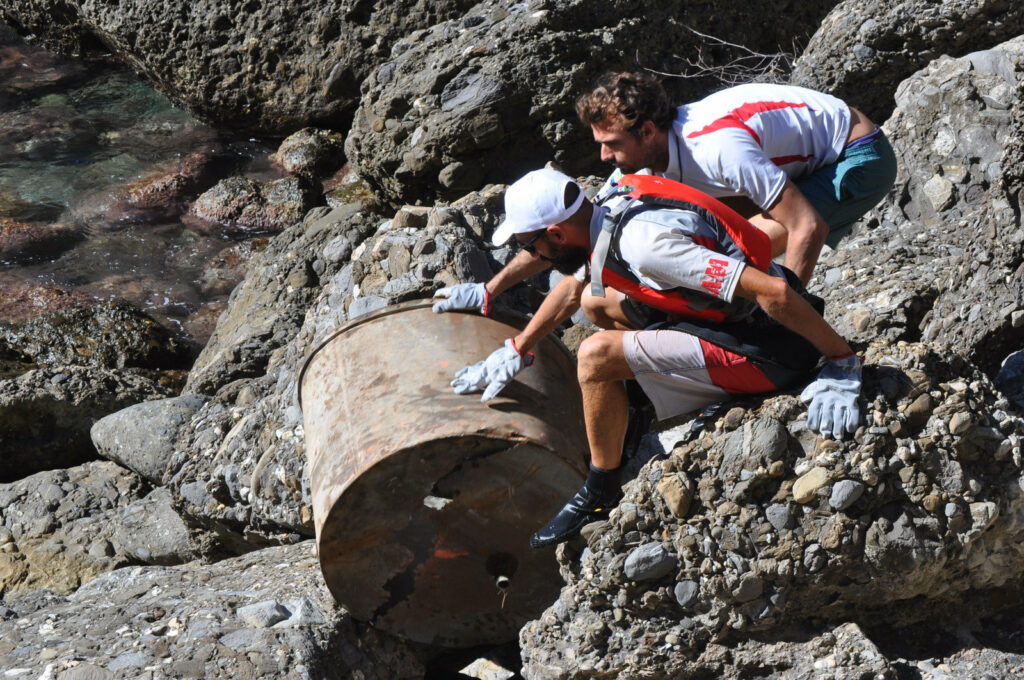 6. June: the Cinque Terre in kayak
Monterosso, Vernazza, Corniglia, Manarola and Riomaggiore. Five pearls set between the green of the olive groves and Mediterranean scrub and that limpid, mysterious blue that only Liguria's sea offers.
Departing from Monterosso we will paddle as far as Vernazza. Grottoes and waterfalls, little fjords and charming villages await us. This is the essence of the Cinque Terre as seen from the sea.
Would you like to know more? Here is a more thorough summary.
Arriving in Vernazza – Cinque Terre
7. July: Mega SUP + Aperitif, in any sea spot in Liguria
The time has come to enjoy some relaxation time, but doing it just as we like it! Far from the crowds and in harmony with nature. Follow these simple instructions: take a Mega Sup (its just a very large SUP), put your friends on it, procure some triple A wine and some focaccia and you're all set!
Don't have a Mega Sup? We can take care of that, read on here!
8. August: Snorkelling in Portofino's Protected Marine Area
Peering below the surface, observing the teeming underwater life, exploring charming landscapes – this is what snorkelling is all about.
A PMA (Protected Marine Area) is the ideal training ground in which to submerge yourself with a mask, flippers and snorkel. Our 5 favourite spots: Paraggi, Olivetta, Vitrale, San Fruttuoso and Punta Chiappa.
Snorkelling amongst the Posidonia
9. September: Portofino beaches, the jewels in the crown of Liguria's sea
Niasca, Cannon Bay and Olivetta. These are three corners of paradise, the three beaches of Portofino municipality.
September is decidedly my favourite month to enjoy them by doing sports there, exploring them or also just simply living them (in a sustainable and conscious way, of course!)
Here you can find all of the info on how to reach them and live them in the best way.
Niasca beach
10. October: in SUP to Bergeggi
With this itinerary in the Bergeggi PMA we complete our grand tour of Liguria's Protected Marine Areas (after visiting the Cinque Terre and Portofino).
Departing from Bergeggi beach, we head SW (that is to say towards Spotorno). The grotto at Punta Predani is beautiful, like the stretch of coast all the way to reach the island. You then reach the islet of Bergeggi where you can explore the Northern part (you need authorisation from the Park's management to navigate the Southern side) and from here you return to the base, stopping off at the Lido delle Sirene. In total it's around 2 nautical miles, a couple of hours including the stops.
Don't have a SUP? You can hire an inflatable one from us, put it in the trunk of your car (or transport it by train) and you're good to go!
Bergeggi Island
11. November: in kayak to Portovenere and Palmaria, Tino and Tinetto islands
Even though here we are not in a Protected Marine Area (but still in a Park), the biodiversity and panoramas are every bit as good as the other PMAs seen thus far …. perhaps even better! This route, ideal to do in kayak, is probably my favourite one in Liguria. Departing from Portovenere, we paddle amongst the three islands (Palmaria, Tino and Tinetto), salute the Stella Maris statue, have a lunch stop at the Pozzale and then return in grand style by passing through the Portovenere canal (after having taken in Byron's grotto). Approximately 7 nautical miles, for a day of salt and paddling that you'll never forget.
You don't have all the gear? Feel more secure with a Guide (we talk about it here)? Discover the kayak tour that we propose all year round with one of our super guides!
12. December: a winter's dip
You are ready, by now after a whole year on the sea cooler water doesn't scare you anymore. Jump in (strictly in your bathing suit) with me, to bid farewell to a marvellous year spent in the company of our wonderful sea. Making the promise to protect and defend it and hoping that ever more people will be able to live it fully.